Globalizing natural gas market drives liquidity in LNG futures
Managing Director, Utility Markets, ICE
The way liquefied natural gas (LNG) is bought and sold is changing. There are more sellers of LNG over a more diverse geography, and the threat of oversupply means that buyers are demanding more flexibility in the tenor of contracts. Furthermore, LNG indexation is evolving from its historical oil based benchmarks to include natural gas hub benchmarks.
As supply expands, this should also promote the establishment of a liquid LNG spot market allowing for further indexation optionality.
At ICE, we're seeing these factors combine to drive increased demand for LNG futures that enable the effective execution of risk management and trading strategies. During 2017, traded ICE JKM futures volume rose 293% in comparison to 2016, as the contract's global relevance grew, driven by changing market dynamics.
The start of 2018 has continued to see strong trading volumes in the contract - the equivalent of more than a cargo of LNG a day. With the impact of the northern hemisphere winter, new participation helped drive volumes up to record levels of 9,258 lots in January. Whilst at the same time open interest climbed steeply pushing close to the 12,000 lot mark.
Growing Liquidity in LNG Futures
ICE launched the first-ever LNG future in 2012, which was a cash-settled futures contract based on the Platts Japan/Korea Marker. Over the past 12 months, we've seen a surge in the volume of JKM LNG futures traded as the contract is increasingly seen as the benchmark contract for LNG in Asia.
The growth in volume and the resulting increase in liquidity can be attributed to a number of factors around the changing dynamics of the LNG market, including the potential for the globalization of natural gas markets and the need for a more specific price benchmark for LNG and for the region's energy supply and production.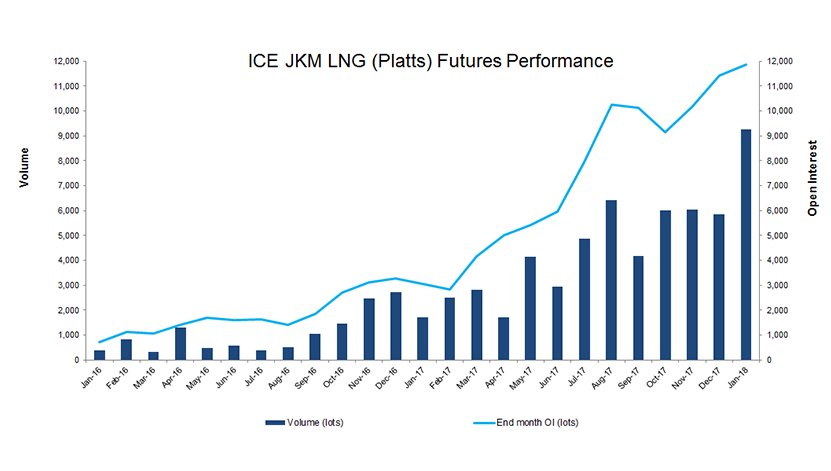 Managing Your Natural Gas Price Risk
ICE offers a wide array of liquid energy benchmarks across oil, natural gas, power and environmental markets to enable customers around the world to hedge their exposure to price risk as these important markets become even more global and connected.
In May last year, building on the success of our JKM futures contract, we launched the first US Gulf Coast LNG futures contract, which is cash settled against the Platts LNG Gulf Coast Marker and designed to support the new wave of US Gulf Coast LNG exports. These LNG contracts are complementary to our leading North American and European natural gas product complex and our offering will continue to evolve as we look to satisfy the needs of the global LNG market.